How to manage thte URL's generated by my Comissions Programs.
How do I manage my URLs? What should I do with them?
URLs are links created by the Comissions Programs and are assigned to a specific Partner with a specific Program. Each Partner will have a different URL for each Program they're part of.
These URLs are the ones your Partners will share among their content to generate webpage visits, registrations on your database, and product sales for you and your brand.
This is why a unique and specific URL is necessary for each Partner and Program, so you can know how many clicks, registrations, and sales a Partner generated for you and you can pay them their specific commission.
How to find the URLs?
If your'e part of the Starter Plan, you don't have to share your URL's with your partners, since Filiatly assigns to them their own URLs in their own platform, which are already connected too your Programs. In other words, if you're part of the Starter Plan, we'll handle it 😉
If you're part of the Lite Plan, you have two ways of finding your URL's too send them to your Partners through the Send Email option each partner has.
1. You can find them on each Partner, in the See URL link.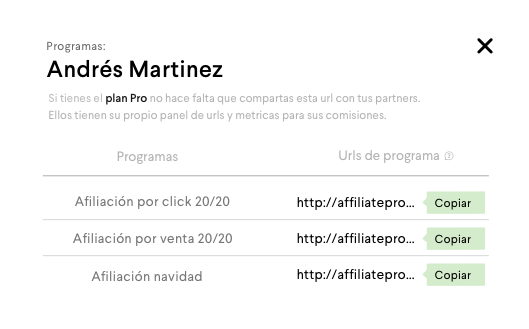 2. You can find them in each Program, on the See URL link.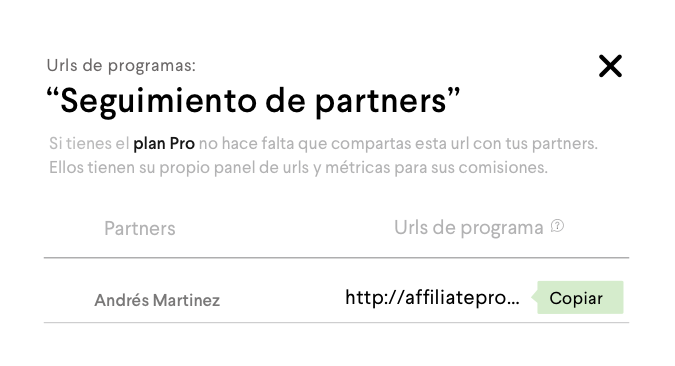 Your Partners will have to take their URLs and share them with their audience along with their content.
Kudos! You've done it 🚀
Remember: If you're part of the Lite Plan, share the URLs with your Partners via email. If you're part of the Starter Plan, don't worry! Filiatly takes care of it.