Review the Partners and Programs record and history in Reports
When you have Partners in your Programs, you'll be able to know how they have performed through the platform and the URLs they have gotten and shared, depending on what you defined in the beginning as the commission payment for every action's determined number.
To do this, you must click on the Reports option on the left side menu of your platform. There, you will find a dashboard with the entire report of your Programs and Partners.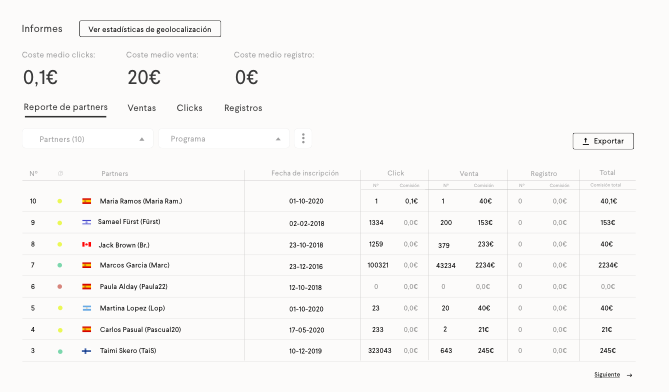 In this page you will find:
1. The geolocation statistics of your Programs; that is to say, where your Partners are from, and the geographic locations from which the clicks, the sales, and the registrations you defined in your Programs come from.
2. An average value of the cost of your clicks, the cost of your sales, and the cost of your registrations so you can analyze how you are doing as a brand according to the work of your Partners.
3. A general Partners overview, where you'll see a list of all your Partners, which includes:
a) A list number to organize your Partners.
b) The date in which they subscribed.
c) The number of actions and commissions generated on each of the affiliations they are working on (Clicks, Sales, Registrations).
d) The total in earned commissions.
4. You'll be able to filter your Partners to see them individually, as well as your Programs to check out each one of them.
5. You'll see other Sales, Clicks, and Registration tabs where you'll se the same information, only specific to each type of affiliation.
6. Finally, you'll se an Export button that will let you export all the information in your board.
In the Reports page you'll see how the data will be automatically updated according to the work done and the payed commissions.